Step 2: Prepare the Shot
Place the main shot on the timeline like so: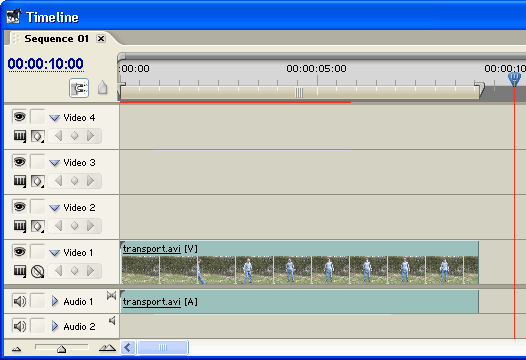 Cut the shot just before the subject enters frame.
Rename the first clip Start and the second clip Finish.
Trim the Finish clip so that it starts where the subject has assumed their materialized position and is about to start acting or moving.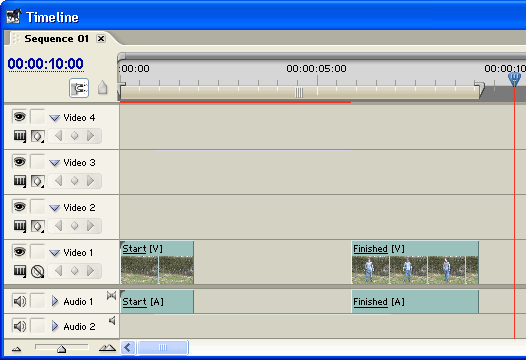 Move the Start clip to the Video 4 track. Click the visibility icon to make this track invisible for now.
Lock the Video 4 track and drag the Start audio (Audio 1) to fill the gap. Unlock the Video 4 track.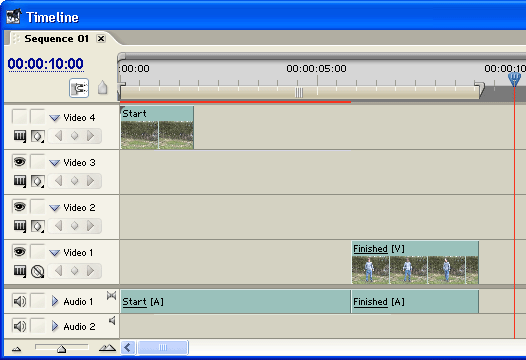 Right-click the Finished clip and select

Copy

.
Lock the Audio 1 track, then paste the clip at the start of the Video 1 track. Rename the new clip Freeze. Unlock the Audio 1 track.
Right-click the Freeze clip, select

Speed/Duration

and enter

00.00.05.00

(5 seconds).
Right-click the clip again, select

Frame Hold

and enter

Hold On In Point

.
Move the Freeze and Finished clips together on the timeline.
The timeline should look something like this: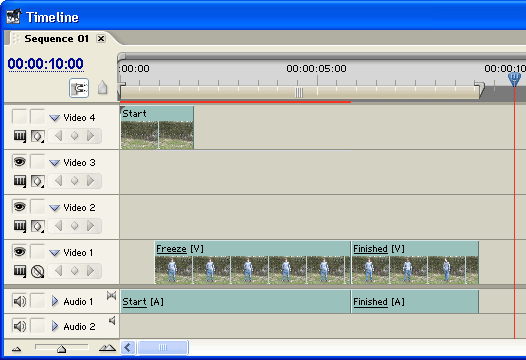 If you play the timeline you will see the subject frozen for five seconds and then begin their movement. The next step is to create a matte to superimpose the sparkles over the freeze.
---
Next Page: Creating the Matte