The Television Camera Operator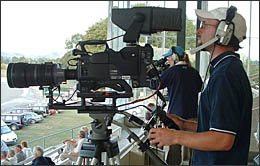 Television camera operators can be roughly divided into two categories:
Studio & OB Operators
These operators are part of a team who together produce a program in real time. This usually involves multiple cameras and operators. Each operator will contribute a portion of the show through their shots.
More info: OB Camera Operations
Field Operators
These operators take their camera to various locations and usually record footage for later editing. Sometimes the footage is used for live transmission (e.g. news items). The field operator may work alone or with a field presenter, sound operator, producer, etc.
Required Skills
In most production environments camera operators are expected to have the following skills: