Cleaning Your Soldering Iron
You should clean your tip after each use. There are many cleaning solutions and the cheapest (and some say best) is a damp sponge. Just rub the soldering iron tip on it after each solder.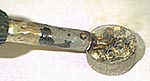 Another option is to use tip cleaner. This comes in a little pot that you push the tip into. This works well if your tip hasn't been cleaned for a while. It does create a lot of smoke, so it is better not to let the tip get so dirty that you need to use tip cleaner.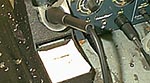 Some solder stations come with a little pad at the base of the holder. If you have one of these, you should get into the habit of wiping the tip on the pad each time you apply solder with it.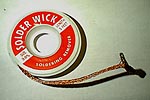 If you need to clean solder off a circuit board, solder wick is what you need. You place the wick on the joint or track you want to clean up, and apply your soldering iron on top. The solder melts and is drawn into the wick. If there is a lot of solder the wick will fill up, so gently pull the wick through the joint and your iron, and the solder will flow into it as it passes.
---
Next Page: Tips